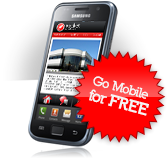 For a limited time only!
Purchase our Orbitor
package and get a
FREE Mobile Website
Not what you need?
Not all projects fit within our packages and that's fine. We have done all kinds of custom website development. Speak to one of our experts and we can suggest some solutions as well as give you time and cost estimates.