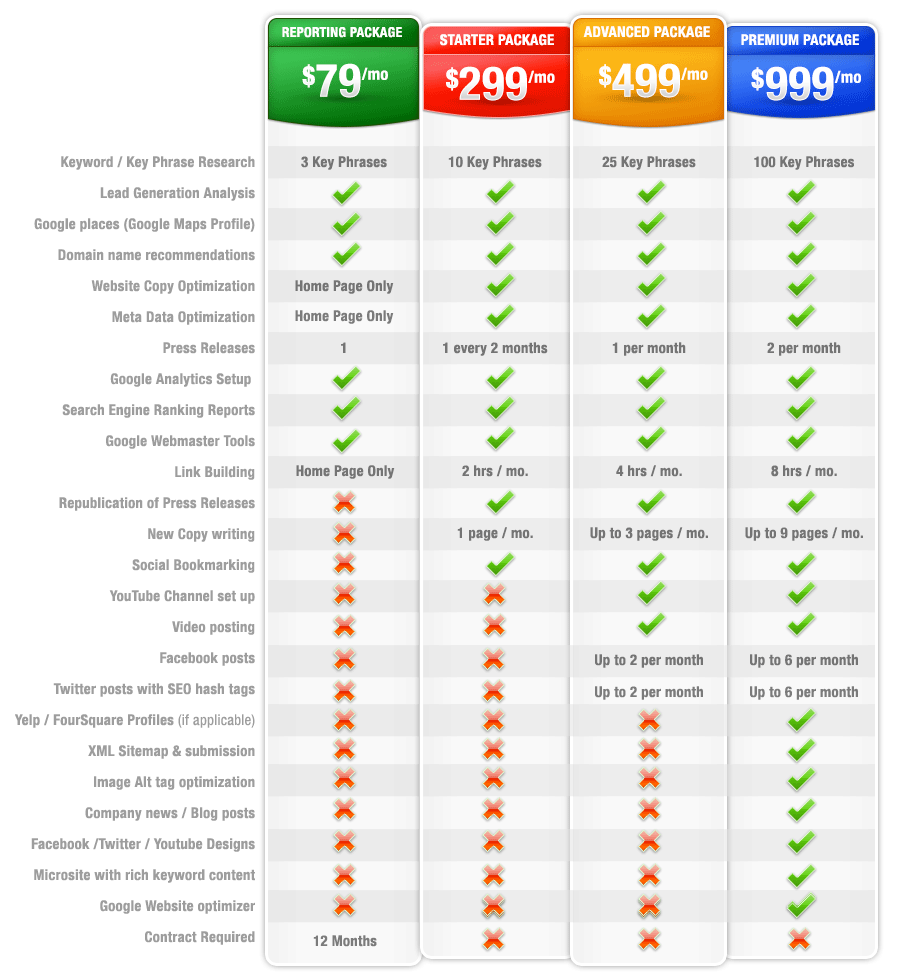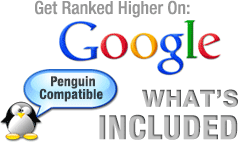 Reporting
The Reporting SEO Package is an ideal solution for businesses or individuals who are already engaged in some level of SEO efforts but need help tracking the effectiveness of their campaigns. Each client will also benefit from some simple home page optimization efforts, which help to raise the entire site's search engine rankings. This is also a great option for businesses that rely more on foot traffic than online sales.
Starter
The Basic SEO Package is designed for site owners that are working with a limited budget but are in need of quality SEO services. This package is a complete SEO plan that involves link building, site content optimization, and promotion.
Advanced
The Advanced SEO Package is our most popular SEO service option. This SEO package is great for both small businesses and medium-sized companies that are looking to aggressively target industry-related keywords and improve their search rankings. Like the Basic SEO Package, this is a complete optimization plan, but it offers a more aggressive approach. The Standard SEO Package also includes the installation and training of Google Analytics to help each client to better measure the effects that the SEO campaign has on site traffic.
Premium
The Premium SEO Package is our most aggressive and fully featured SEO services package. In addition to the SEO organic optimization, The Premium SEO Package is aimed at businesses that are looking to take big strides into solidifying their online presence and at competing at a higher level against competition in their respective industries. The Advanced SEO Package also includes the installation and training of Google Analytics to help each client to better measure the effects that the SEO campaign has on site traffic. This packages also include general site promotion via social networks, social bookmarking sites, and within our client network where applicable.
DEFINITION OF TERMS


Keyword/Key Phrase Research
Keyword research helps build keyword base that align with your company's goals and aims with SEO optimization. We research keywords and phrases based on geographies, search volumes and competitiveness to help companies quickly increase their rankings in Google and other major search engines. Each package varies in the number of keywords/key phrases we work towards getting you ranked on.
Lead Generation Analysis
Analysis of the effectiveness of current lead generation efforts, such as list building, pay-per-clicks efforts, and organic search engine results and website traffic.

Google Places (Google Maps Profile)
Set-up of administration for Google Maps and Google Places profile and data entry such as store hours, address and business phone number.

Domain Name Recommendations
Recommendations for optimized domain names based on products, keyword phrase recommendations, etc to increase lead generation.
Website Copy Optimization
Increase keyword saturation and distribution throughout your website to increase natural search engine generated leads and traffic to your website.
Meta Data Optimization
Optimization of website meta data based on keyword phrases and other SEO content, which is crucial for increasing analytics accuracy.
Press Releases
Press releases are optimized to include your company's top keywords and links to your website, which helps to increase your site backlinks. One our press releases are distributed, is generates a significant amount of backlinks to build your website's legitimacy and audience.
Google Analytics Setup
We will set-up a Google Analytics reporting system for your company's website to measure your website's sales and conversions rates while further providing information on how visitors access and use your website.

Search Engine Ranking Reports
Monthly reports on search engine rankings for each keyword and keyword phrase for your website, allowing your company to track your organic search engine results. Optimizing your website will help increase your website's rankings in Google and other search engines based on keywords and optimized content.
Google Webmaster Tools
We will provide reports on your website's visibility in Google. Checks for potential site issues and other problems that limit your website's rankability on Google.
Linkbuilding
Linkbuilding helps increase your website's popularity and visibility, based on what is considered important and popular. The process helps search engines view the increased popularity of a your website as well as other factors such as metrics like trust, spam, and authority.
Republication of Press Releases
Through republication of press releases, your website will gain increased backlinks which further help to generate traffic and visibility of your page.

New Copy Writing
We will develop new and unique optimized content for your website to help you generate better rankings and visibilities in search engines. The more pages produced, the more direct results and more keywords content can be optimized for to improve search engine traffic.
Social Bookmarking
Through social bookmarking, we will add, annotate, share and create bookmarks to your company's website and webpages. Through bookmarking on sites such as Pinterest and other similar social bookmarking services, your company will see increased traffic to your website.

YouTube Channel Set-Up
We will set up your company's YouTube Channel, which can provide you with valuable new marketing opportunities. YouTube channels can service multiple purposes, including helping to general backlinks and links through social bookmarking.
Video Posting
We can also help your company upload, post, and share existing or new videos to your company's YouTube Channel or an automated or as-needed basis, determined by the number of videos you which to post.
Facebook Posts
Don't stress about social media marketing, we can help take care of that for you. We will post relevant content to your company's Facebook page, as well as share with others to generate more popularity, visibility and discussion about your company. We can also link your Facebook and Twitter accounts to posts are made simultaneously.
Twitter Posts with SEO Hash Tags
We will create Twitter posts using keyword phrases and keywords from your website to generate further traffic to your website from social media sites. Twitter is a unique way for social interaction that can result in rapid retweeting and sharing of backlinks to your website.

Yelp / FourSquare Profiles (if applicable)
If your business is looking to offer promotions or increase visibility on social media platforms, creating Yelp and FourSquare profiles will help increase your website and company's visibility online, especially through mobile phone applications. Increase leads from clients who are on the go through check-in or review based services such as Yelp and Foursquare.

XML Sitemap & Submission
Increase your website's data index in search engines through a generated XML sitemap that will help Google and other search engines find new pages and links to your website. XML sitemaps help increase rankings and accurate engine indexing for your website.

Image Alt Tag Optimization
Increase traffic through sites such as Google Image searches by optimizing the website tags for photos and multimedia content on your website. Helps index your website in a variety of ways that traditional page optimization.

Company News/ Blog Posts
We will help you manage company news and blog post pages through our internal management system. In optimizing your news and blog posts, your website is able to be more regularly updated and in turned indexed by Google for new information relevant to your keyword phrases.
Facebook/Twitter/Youtube Designs
We will create custom Twitter and YouTube page designs for your company to create a seamless color scheme that matches your logo and website. We will also manage Facebook page design aspects such as cover photos and profile pictures. Allows you to focus more on your company itself, by takes away site management time.

Microsite with Rich Keyword Content
A microsite compliments your existing website with match keyword and keyword phrases that are optimized to a more particular audience or target. Microsites can further help reduce your company's pay per click cost by focus on specific keywords to improve your quality score.
Google Website Optimizer
We will test elements on your website such as product images, reviews, forms, etc. to test scenarios to increase your website's traffic and conversion rates.